About Us
Navboys was initially formed to respond to a demand for good customer service and technical knowledge within the UK for the latest avionics from LXNAV. The business has grown from operating an online shop out of Shaun's living room at its birth, to its current professional workshop premises on Lasham Airfield. The online shop has grown along the way, with a constantly expanding range of products, with the aim of creating a one-stop-shop for all glider pilots' needs. Since expanding our team in 2019, we now offer a wider range of services to the gliding market, on top of advice for and fitting avionics, we are now capable of carrying out annual inspections, ARC renewals and repairs on gliders.
If you would like to get in contact to see if we can help you, please visit our contact page.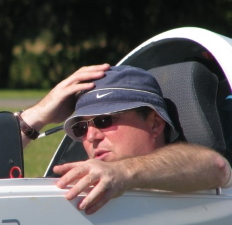 Shaun Lapworth
BGA Inspector with ratings for self-sustainers + TMG
ARC Signatory
Shaun has been gliding for 17 years, has all three diamonds and is a keen club and national competition pilot. With a background in IT and an interest in navigation, starting a gliding business seemed to be a natural choice. Shaun flies from Lasham but also likes to fly in South Africa where he holds the 500km British and Continental record at 175kph. Shaun is well known for his benevolence; he will always go out of his way to assist others with issues on the grid, and has continuously shown generosity when supporting junior pilots to get the equipment they need to achieve their full potential.